A wearable for live mixing your world. Significant-other jokes sold separately.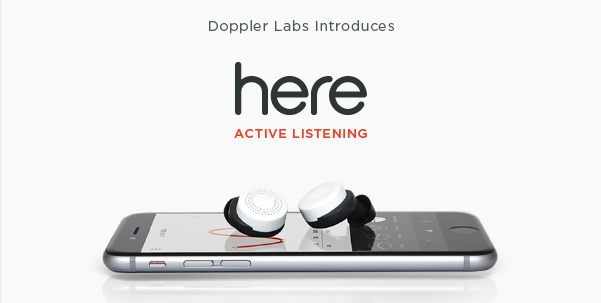 We've talked a lot around the office about wanting to do a  kickstarter's-we-love post series, but with all the noise and the signals out there it's hard to find the right stuff to shout out on the regular.
That's why we love it when folks we know put out a call that we're excited to get behind.
Not only does Doppler Labs share our ethos about trying to make the world sound better for everyone, they are also doing it with disruptive, mind blowing tech.
Here Active Listening is a pair of wireless earbuds that let you use DSP to control what and how you hear in real-time. You read right, there's an app for controlling everything that enters your ears. Using volume sliders, EQ, and effects to do things like filter out a subway noise, boost bass at a concert, and even remove effects.
They are calling it the first "hearable"— think wearables for hearing.
Kickstarter listed it as a staff pick and they've already reached halfway to their goal. Let's help them get all the way across the finish line.
We're huge fans of the whole team at Doppler and we love to shine light on people who are doing amazing things in the music business.
Support the kickstarter here. It's mind-blowing stuff.
Feature Photo: by Josh Valcarcel/Wired