TikTok is taking the music world by storm
?
The popular video sharing app originally known as Musical.ly allows users to post short challenge-style videos set to music.
This viral combination of meme-able dances and hit tracks has made the platform one of the funnest social media apps for young music fans.
TikTok is probably best known in the music industry for helping Lil Nas X's mega-smash hit "Old Town Road" take over the world.
But you might not know that distributing your music on TikTok can get you paid for plays just like on Spotify and Apple Music.
The platform's viral potential means that a hit video can rack up lots of views very quickly.
That means there's a big opportunity to grow your audience and make money with music on TikTok.
In this article I'll show you everything you need to know to get your music on TikTok.
1. Get digital distribution
Let's start with the basics. You can't just choose any song from your hard drive to upload to TikTok. You have to officially add it to the app's library with digital distribution.
With digital distribution, you can manage the rights to your music and ensure that you get credit for streams.
There's a lot of distribution services out there, but they're not all the same. TikTok is a new platform, and not every distributor supports it.
That's why we put together the ultimate guide to digital distro for musicians.
There's a lot to learn, but when it comes to getting your music on TikTok, Kami Records Distribution is the simplest choice for the best value.
Hot tip: TikTok isn't the only fast growing platform that you get access to with Kami Distribution. Kami Records now distributes to Boomplay, one of the most important streaming services in Africa.
2. Create a release
The next step is to create a release with your distribution plan.
This is where you fill in all the important details that define how your music appears online.
Streaming platforms have to meet strict standards to make sure the quality of their catalogue is consistent.
Streaming platforms have to meet strict standards to make sure the quality of their catalogue is consistent.
To make the cut you need to submit detailed information, quality album artwork, and the correct publishing details.
This extra info about your release is called metadata. It's what links you to your tracks once they're out in the world—and how you get paid for your streams.
Metadata makes it clear that you're the author and owner of your work, which brings me to my next point…
3. Clear (or avoid) copyrighted material
Using copyrighted material that hasn't been cleared by the owner can stop your release in its tracks.
That means your music won't be accepted by any major streaming platform, including TikTok.
Copyrighted material means any element of your track that isn't an original creation.
The most common type of copyrighted material is samples. If you use any audio from a track that doesn't belong to you, you have to clear it with the owner.
In many cases, getting sample clearance from the copyright holder isn't realistic—especially if the sample comes from a well-known song.
The simplest solution to make sure your release doesn't get stuck at this step is to only use pre-cleared samples from a marketplace like Kami Samples.
That way you'll still own every element of your track, even if you used existing sounds to make it.
Hot tip: It's still possible to record and release a cover of an existing song. Cover songs require a specific license for distribution, but Kami Records can help with that too. Check out our guide to releasing a cover if you want to get your cover songs on TikTok.
Music copyright is another complicated topic, but you'll never have to worry about it if you take these basic steps.
4. Make sure you're opted in to TikTok distribution
With Kami Records, TikTok is included in your distribution package.
That means you don't have to do anything special to get your music on TikTok. Simply check the box in the release builder to enable delivery to TikTok.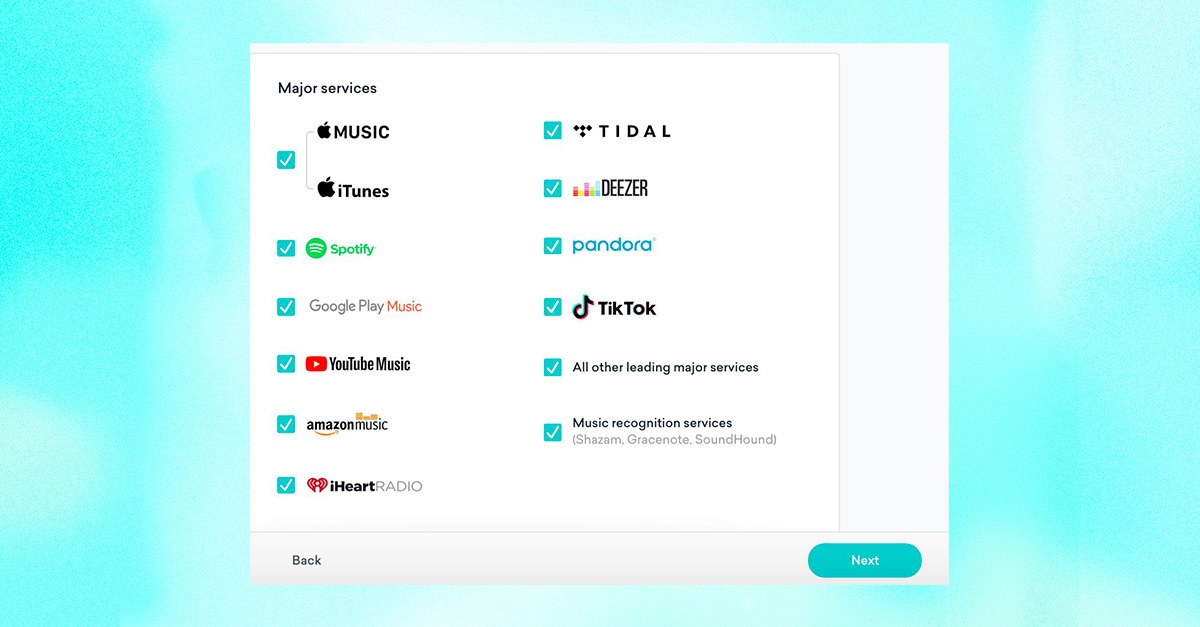 If you have releases live on Kami Distribution, you're already covered. By default, all existing releases are now delivered to TikTok automatically, unless you say otherwise.
That's all there is to it. With the right distribution service, getting your music on TikTok is a breeze.
With the right distribution service, getting your music on TikTok is a breeze.
5. Watch your stats
Once your music is up on TikTok it's available for anyone to add to their videos.
If you've made it this far you're probably wondering how you get paid for your plays. Here's how it works:
TikTok revolves around music, but it's not a streaming service. Instead of earning money from streams, if somebody uses your song in their video, you'll earn money every time that video is viewed.
But you don't have to sit around and wait for someone to find your song and use it in a video to grow your music with TikTok. It's a great space for music promotion as well.
Make a profile for your music project and start creating content on the platform. Here's the key points to remember:
Customize your avatar, create your bio and link your socials
Keep videos short (20 seconds max, 10 to 17 is ideal)
Be authentic and don't get too fancy with your videos
Videos should be shot vertically to optimize the full screen experience
Interact with videos you like to customize your experience
Connect with other users by trying the Duet feature
The next viral track?
The ways fans listen to music are changing faster than ever before. It's easy to see why TikTok has become an important part of the streaming landscape—especially for younger listeners.
Now that you know how to get your music on TikTok, get back to making music and create the next viral hit!