I'm decidedly un-nostalgic. Nostalgia is expensive and often doesn't do the job I need it to do. Especially when it comes to gear…
I'm decidedly un-nostalgic. Nostalgia is expensive and often doesn't do the job I need it to do. Especially when it comes to gear…
My set-up contains exactly zero vintage instruments—and it's all analog. Vintage gear is often expensive (not always for the right reasons).
Current innovations in both analog synthesis, hardware design and firmware have brought us some incredible workflows for gear. Analog synths can now be used as VST plugins, and sync up with just about anything.
Even though some vintage re-issues are exciting to many, I can't help but feel like it's a bit… boring.
The exciting part of those re-issues is making iconic synths accessible to more people. But I have a hard time getting excited about something that's a copy of the past. What made those original synths exciting in the first place was the way they were re-inventing musicianship with new technologies of their era.
So in honour of all the innovators out there, here are 10 future-facing pieces of gear that refuse to repeat the past:
1. Korg Minilogue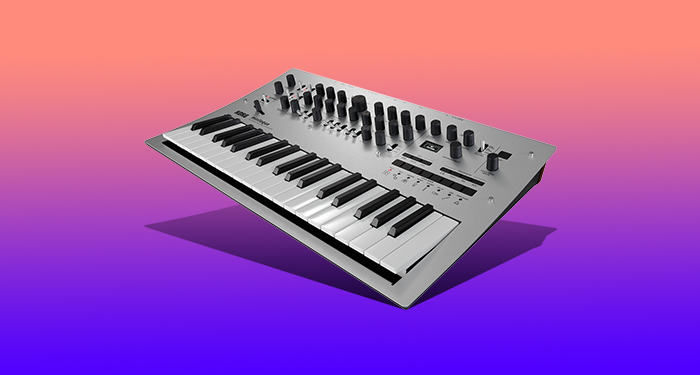 I begin this list with my own beloved synth: the Korg Minilogue.
Created by Tatsuya Takahashi, this fantastic polyphonic four-voice analog synth from Korg hit the market in the middle of the recent democratisation of analog synthesis. The popularity of the fully-programmable Minilogue was apparent in music stores and studios everywhere (often back-ordered for months).
Korg's intuitive workflow and smart firmware makes this a performance-ready synthesizer. This machine saves patches as you make them, and saves motion sequences on up to 4 parameters.
When I played my last set, I saved all my 8 tracks in the order of the set list for easy recall—a real blessing.
Other cool features:  A 16-step sequencer and 200 program memories, on-board tape delay, ring modulation and knobs to shape your waves (lots of waveshape possibilities).
The OLED oscilloscope even shows you how you are affecting your wave shape as you change parameters in real-time, giving you valuable visual feedback on how you're shaping your sound.All features considered, this synth packs in all the benefits of a vintage synth, but with a sleek and useable interface that is truly modern. The price makes sense for today's musicians as well (very affordable).
If you like this synth, check out its mono bass synth sibling, the Monologue. Aphex Twin even designed some of the presets!
2. Elektron Analog Rytm MKII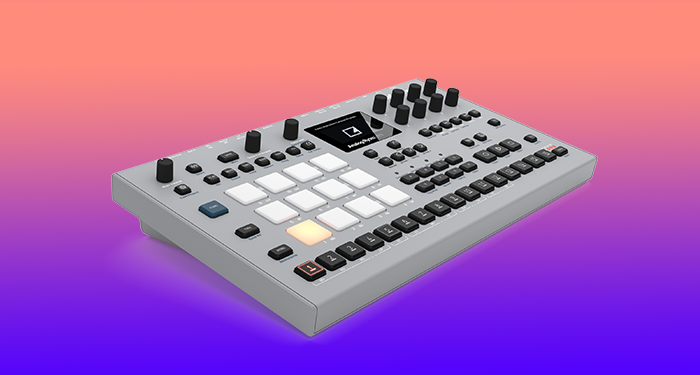 Swedish gear-makers Elektron are known for three things: building true workhorses, designing exceptional sequencers, and making you want to pull your hair out when you first get one of their machines. They're notorious for having a steep learning curve.
You get 'good' at your Elektron after many months of deep diving. But once you get the hang of it, you discover the exponential potential and power of these machines. I know from experience—I have an Analog Rytm, or 'AR' for the homies.
After extensive explorations I understood how many complex polyrhythmic sequences and the patterns I could make. You can even do off the grid unquantized sequences for extra groove.
The Analog Rytm MKII is the new version of the AR. They've included more dedicated buttons and quick performance controls—bless the Save Project button! The AR also has full sampling capability via balanced ¼" audio inputs. The look is new and the pads are larger.
The AR MKII just like the original AR can fully integrate with DAWs by using Elektron's Overbridge software. This allows you to use your Elektron device like a plugin. The MKII has higher bandwidth for Overbridge.
Elektron not only builds future-facing gear, they're building future-facing workflows and changing how we perceive the creation of sound. No nostalgia here.
It's not a cheap machine, but its complexity and durability make it worth it. The Analog Rytm MKII will be available in October 2017.
3. Kilpatrick Phenol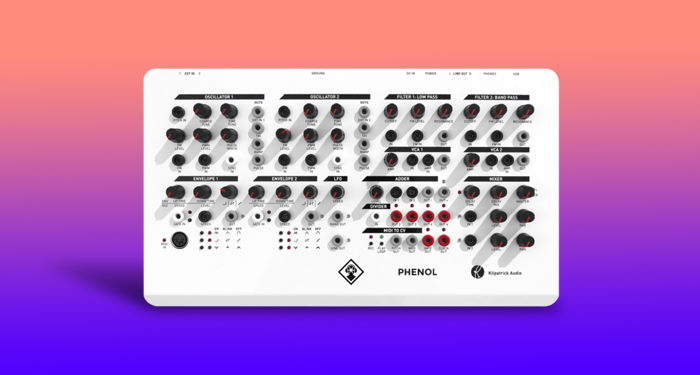 Kilpatrick's Phenol patchable analog synthesizer is a Kickstarter success story. It was launched in 2015 and since then, this Canadian-made synth has been blipping, beeping and bubbling all over the world.
The Phenol is a new kind of instrument. It's inspired by modular synths and compatible with them, but it comes in a neat little box that makes it more approachable.
It's both a gateway for newcomers in the modular world, and a travel-friendly add-on for seasoned heads.
The Phenol is based on Andrew Kipatrick's Modular Format. It uses banana jacks (surprisingly not also a breakfast cereal), just like the Buchla, Serge, and Fenix formats. To use with Eurorack, you'll just need to get some minijack adapters.
It has two analog VCOs with triangle, ramp and pulse outputs, two analog filters and two analog VCAs with level control. It also has two envelope generators and digital LFO combos. There is a built in MIDI sequencer and looper, and packs a compact mixer and digital delay.
The cool part is that the price is totally decent for a modular box—something you won't hear too often.
Find out more about the Kilpatrick Phenol.
4. Novation Peak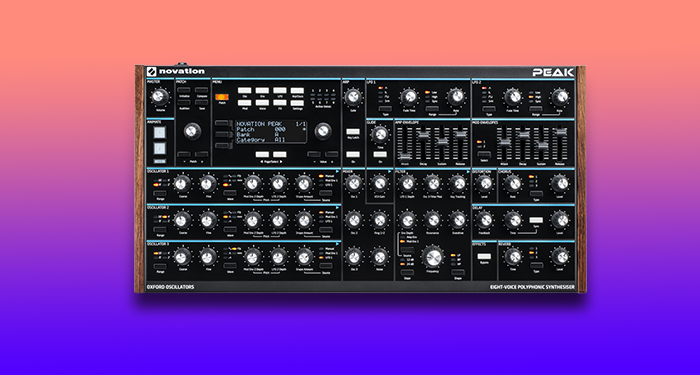 I'm by no means an analog purist. All my synthesizer have some form of digital firmware anyway. If anything, hybrids of analog and digital are some of the best synths out there.
Novation's latest polyphonic synth is a stunning example of an analog/digital hybrid.
What's analog? The 8 synth voices, the distortion and the filters—as they should be.
So what's digital? Well, the processor used for the routing, the modulation and the effects—reverb, delay and chorus. Which mean the sample rate of the effects can operate at super high quality: over 90kHz!
The digital components are powered by its high quality processor, called Field Programmable Gate Array (FPGA). Unlike the usual DSP chips, the processor can handle many functions at once and runs at a much higher rate. That means higher precision and clarity.
The type of waveform-generation used is Numerically Controlled Oscillators (NCOs) and 17 wavetables. NCO ensures the Peak will never fall out of tune. The modulation matrix allows for plenty of complexity. You also have FM synthesis for all you frequency modulators out there.
This is truly one of the most intriguing new comers on the synths market right now. Novation has found a perfect mix of analog and digital in this versatile synth. Grab your favourite MIDI keyboard plug it in and you're set.
Find out more about the Novation Peak.
Price: 1300 USD / ~1400 EUR
5. Dreadbox Erebus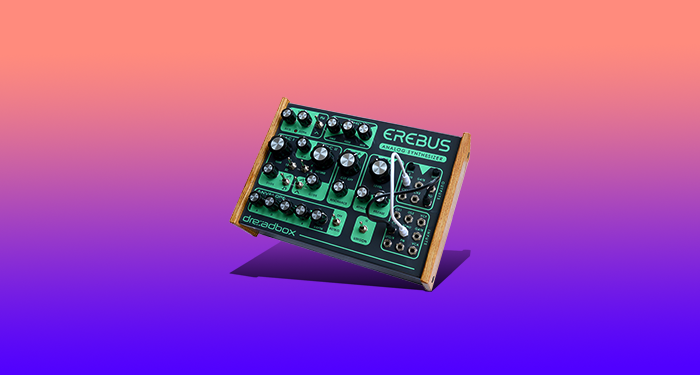 Dreadbox has been handcrafting pedals and synths in Athens, Greece since 2012.
Their reputation has grown and you can now find them at all the boutique gear shops. The Erebus analog paraphonic synthesizer is among their popular models. It's got 2-voice analog paraphony or unison.
This compact box comes equipped with a MIDI-to-CV converter, a unique sounding Low Pass Filter, delay and echo units and lots of lots of modular patching options. You can hook it up to your Eurorack modules or an MS20. It also has basic MIDI implementation for syncing purposes.
Including the on-board analog effects and funky design, the Erebus doesn't let the legends cast a shadow on it. I'm all for making space for smaller companies in today's synth star system—and this one is promising and quite affordable.
Find out more about the Dreadbox Erebus.
Price: 600 USD / 530 EUR
6. Behringer Deepmind 12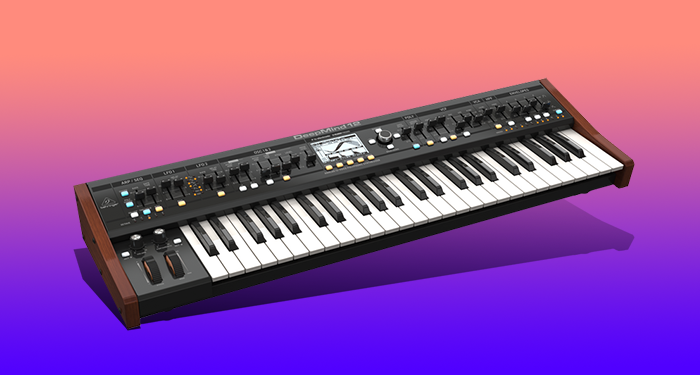 The much publicized Behringer DeepMind 12 is intriguing. It has a ton of voices for an analog synth: a rich 12-voice polyphony.
The DeepMind might seem over the top, but once you start detuning all of those, you can get really trippy.
The DM12 has 4 effects engines that are made by TC Electronic (superb pedal makers) & Klark Teknik (who develop signal processing and audio equipment). You also get a total of 32 digital effects to choose from—and can load 4 per patch.
The screen gives you useful visual feedback on all the parameters you are effecting. The 1024 patch memory locations to save your patches means all your ideas aren't gonna get lost in the shuffle.
It's equipped with a one-finger chord triggering feature and an arpeggiator.  It comes with 49 Keys with aftertouch, a 2- or 4-pole low-pass filter per voice, a general high-pass filter, modulation and more.
Behringer is somewhat of a divisive company especially on issues regarding originality, but this synth is definitely not a copy—even though it's said that the initial inspiration came from the Juno 106. It packs a ton of cool features for an impressively low price.
Find out more about the Behringer DeepMind 12.
Price: 1000 USD / ~1110 EUR
7. Moog Sub Phatty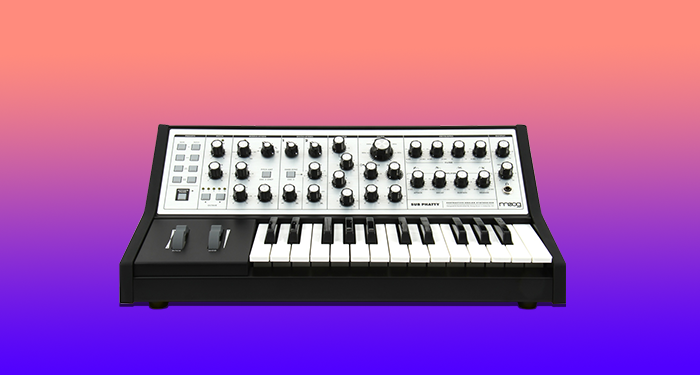 Even though Moog rhymes with vintage synths, the company is building on their legacy to innovate. It might have the classic Moog look, but the Sub Phatty monophonic synth (born in 2013) has a totally new sound engine that barely requires any warm up time.
The Sub Phatty sounds crisp and aggressive thanks to its its Multidrive section. You can really push the sound to some gritty, screaming heights.
This synth has a nice front panel with tons of features, and more that can be accessed from the free standalone/plugin editor.
You have two variable waveshape oscillators at your disposal. The coolest part is the Wave selection knob. It lets you select a waveshape that's in-between two waves, or even sweep through them during a performance for subtle sonic changes.
There's also one sub oscillator that generates a square wave one octave below Oscillator 1. This adds depth and (phatty) meat to your sound. The last sound source is a noise generator that's designed to have a lot of body.
The 25 semi-weighted keys have a nice feel, as you would expect from a Moog.
This synth is awesome for sound design and even recording your own custom percussion kit. What makes it future-facing is the renewed engine, the plugin editor and the decent price.
For a company that could simply rely on their back catalog of classic gear, Moog is instead opting to build their own future as well. The Sub Phatty is all the proof you need.
Find out more about the Moog Sub Phatty.
Price: 790 USD / ~888 EUR already assembled
8. Tasty Chip Electronics ST-4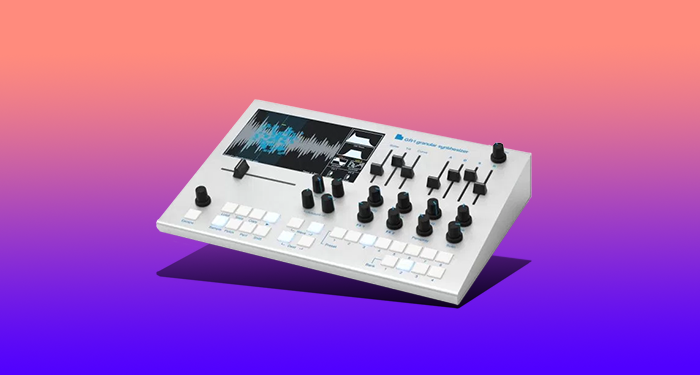 The small Dutch operation Tasty Chip Electronics is another Kickstarter success story.
The Tasty Chip Electronics ST-4 is their second synth. It's a analog-digital hybrid synth. Its defining feature is the 16-bit style tracker music machine. Think 707 grid mixed with a 1st generation iPod display.
It has digital oscillators and analog VCF and VCAs. It's also got on-board sampling capabilities. There are lots of knobs, buttons and faders for hands-on tweaking.
It's fully controllable with MIDI (I've seen demos that even use an Apple computer keyboard). Use it as a desktop or mount it on standard 19" racks.
The ST-4 also caters to the DIY synth nerds: you can buy the ST-4 kit to assemble yourself for much cheaper.
Keep an eye out for Tasty Chip Electronics. They're also working on an exciting new polyphonic hardware granular synth, the GR-1.
Find out more about the Tasty Chip Electronics ST-04.
9. Roland SE-02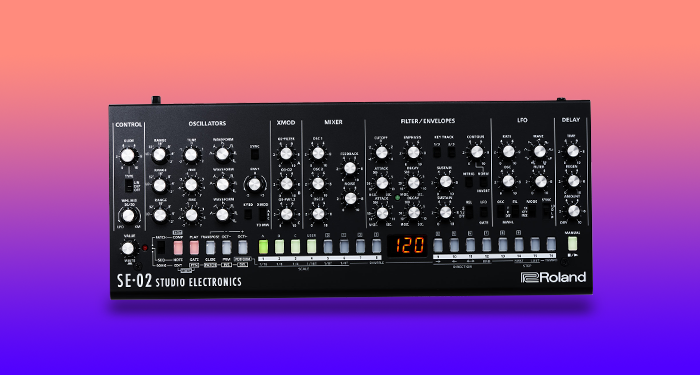 The small Californian analog synth company Studio Electronics teamed up with Roland to make the SE-02.
The result is an analog circuit encased in a Roland Boutique sized enclosure. It's an analog synth with a lots of the functionalities expected from contemporary gear.
It's got three analog oscillator, but they tune automatically. There's also a 16-step that allows you to change the shuffle, scale, direction, and first/last steps while performing.  It has 384 presets and you can save 128 of your own. It comes with an LFO and digital delay that can be tempo synced.
The XMOD section allows for three different cross-modulations. In combination with the feedback section and the noise generator, you can really get some distinctive sounds out of this little box.
This synth is cool because it will likely fulfill both your vintage synth thirst and go beyond it—in both sound and usability.
The SE-02 is made for modern hybridity, seamlessly syncing with a computer set-up via USB, or with other hardware or modulars via MIDI, CV and gate integration.
Out of all the Boutique synths, this one is the most unique. It's the first analog one of the series, and it doesn't base itself on a re-issue of an old icon.  Oh and it's pretty cheap too!
Find out more about the Roland SE-02.
10. Arturia MatrixBrute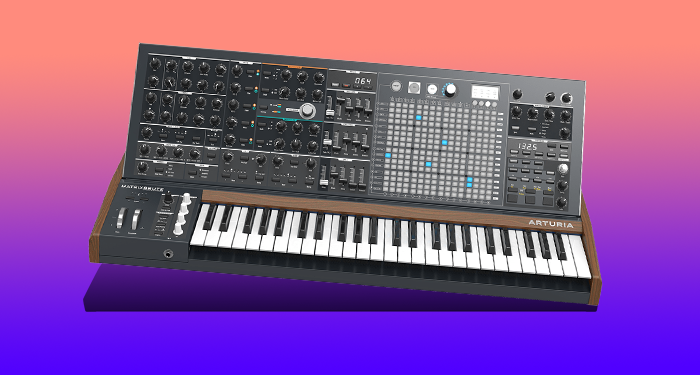 "Analog Avant-Garde" is how Arturia describes its latest machine, the MatrixBrute. Although this sounds a little over the top, this synth certain has some forward thinking features.
The MatrixBrute is a monophonic synthesizer that has a modular-like flexibility paired with the ability to save 256 presets.
In terms of approach, it's similar to driving a spaceship: tons of buttons, knobs, keys and directions you can go.
The central focus is definitely the big modulation matrix (the button grid). It lets you create your own routings and come up with unique sounds. This machine promises no menu diving and double functions.
It's got three analog 'Brute' oscillators (made famous in Arturia's Mini- and Micro- Brutes), two high-quality filter and five analog effects (stereo delay, mono delay, reverb, chorus and flanger). These effects can be routed in various ways on the matrix.
It's easy to connect to both analog and digital setups using USB, MIDI or CV/gate. That means that you can use it directly with your DAW or with whatever hardware setup you have.
This is definitely the priciest item on this list, but with the amount of possibilities, the unique workflow and the amount of hands-on control, it seems well-worth checking out and a nice unit that paves the path to innovate.
Find out more about the Arturia MatrixBrute.
Think Outside the Vintage Box
Without a doubt, now is the best time for both digital and analog synthesis.
Manufacturers are coming up with new workflows, hybrid machines and keeping the prices decent. It's time to explore what this new wave of synthesis has to offer instead of getting stuck in vintage fetish mode.
You'll find that your setup will be lighter, easier to use and present more creative possibilities. Companies know that music makers nowadays are smart. Producers need their gear to be compatible with a range of other machines without compromising on the sound. They need their gear to be travel friendly and reliable.
This list gives you an overview of some of the finest examples of forward-thinking analog synth design.