Most VSTs are really good at one thing, or suited for a specific genre. But there's a select few out there that are total workhorses.
In the world of digital music production, there' a whole universe of VST plugins to choose from.
They do a lot of things really well no matter what your project sounds like.
The VSTs on this list offer heaps of possibilities in a single plugin.
Whether you're making sweeping ambient drones, experimental prog rock or wall-shaking techno, you'll find yourself coming back to these plugins track after track—no matter what genre you're working in.
Here's our 7 favourite versatile VST plugins that belong in every production toolbox.
Massive by Native Instruments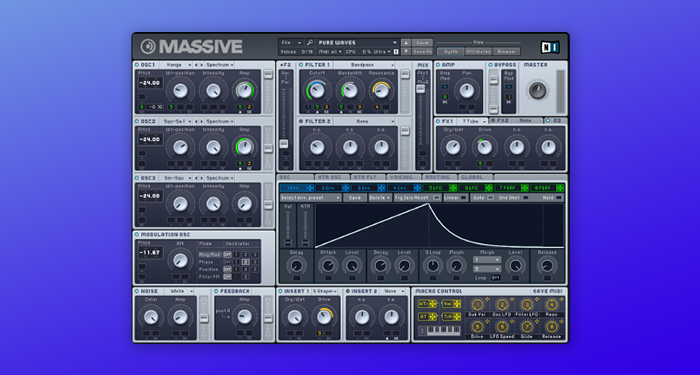 Massive is (rightfully) described as a 'sonic monster'.
It's an unbeatable synthesizer for basslines and leads. There's over 1300 presets to choose from and an easy-to-use browser that sorts presets by type and characteristics.
Even though Massive has become known as a popular VST for dubstep and EDM producers, one look through the enormous and diverse library of presets shows that this plugin can do a lot more than create wobble bass effects.
Each preset has 8 customizable macro controls to allow you to dramatically change the sound of each preset, and if that wasn't enough, you can also go in and alter any of the 3 oscillators or their filters and envelopes to further shape your sound. With so much room for customization, you can tweak almost any sound in the plugin to suit your personal preference and work across a variety of genres.
Even though Massive shines for window-shattering basslines, it also has a huge selection of beautiful soundscapes and pads for those softer passages, making it one of the most versatile and widely used VSTs on the market.
Serum by Xfer Records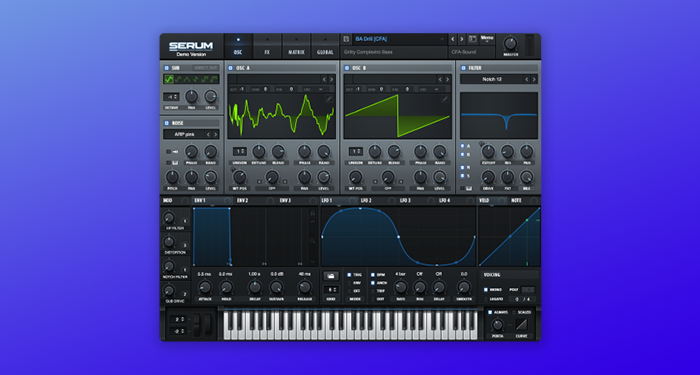 Serum is a 2 oscillator wavetable synthesizer with fully user-editable wavetables. What makes this synth really special is the ability to import your own recorded audio or outside samples—making the possibilities truly endless and versatile for any project.
Serum also features a Remap Mode, which allows for you to draw your own wavetables and customize the presets or your own imported audio.
The effect rack also includes 10 different modules making this synth even more useful than most synth VSTs.
Decapitator by Soundtoys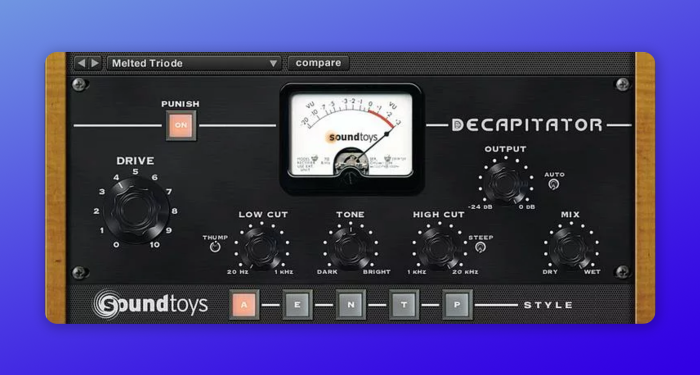 When it comes to saturation effect plugins, Decapitator shows up in a ton of top lists—And for good reason…
With 5 different analogue saturation models, Decapitator lets you create subtle, extreme, or anywhere-in-between hardware-modelled saturation.
Decapitator's tone control allows you to shape your sound how you want it, and it's mix control allows you to blend in dry signal without the need to use routing and sub-mixes.
The flexibility of this VST makes it the perfect choice for adding character to every instrument in your mix, no matter what those instruments might be.
Toraverb by D16 Group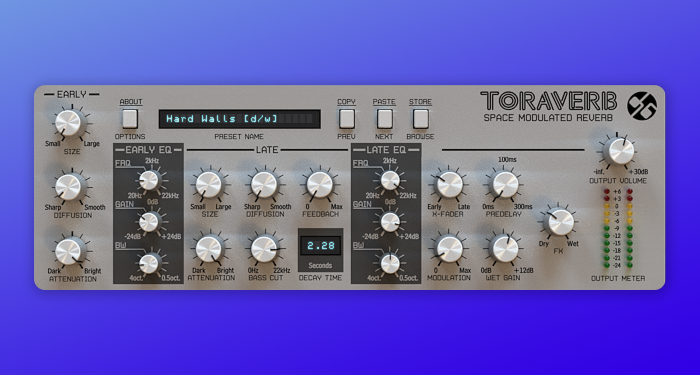 When the engineers at D16 Group set out to create Toraverb, they wanted to make a reverb VST that was unlike any other. Marketed as a 'concept algorithm reverb', Toraverb has easily accessible parameters for creating your own type of reverb—forget your classic room, hall, etc.
Toraverb has two independent, single band parametric equalizers, one for early and one for late EQ reflections—a feature that allows for full user control.
Because the sound shaping in Toraverb is so flexible and high-quality, it's useful on any component in your track — it sounds lovely when used on pads, synths, and guitars, but also adds depth to rhythmic patterns.
CamelCrusher by Camel Audio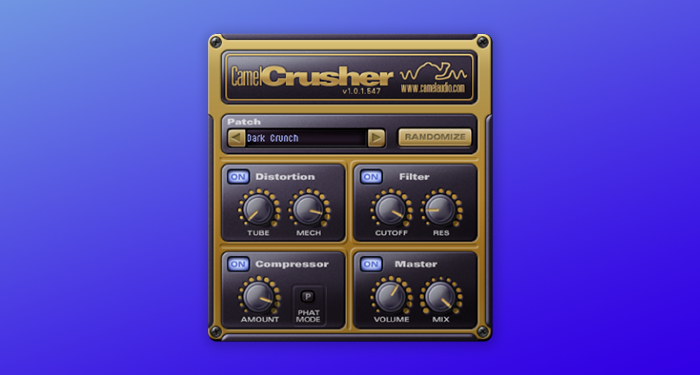 CamelCrusher is a free VST (!) featuring two different distortion tones (which can be used separately or blended together), a silky smooth low-pass filter and user-friendly compressor. All of these options combine to make CamelCrusher a go-to VST for all situations and a great place to get started with distortion on any project.
CamelCrusher will beef up any component of your track—but where it really shines is on drums of all types. The infamous 'Phat Mode' ensures your kick will cut through even the most heavily-distorted basslines.
Unfortunately the company that created CamelCrusher, Camel Audio, does not exist anymore, but CamelCrusher is still available for free here.
Movement by Output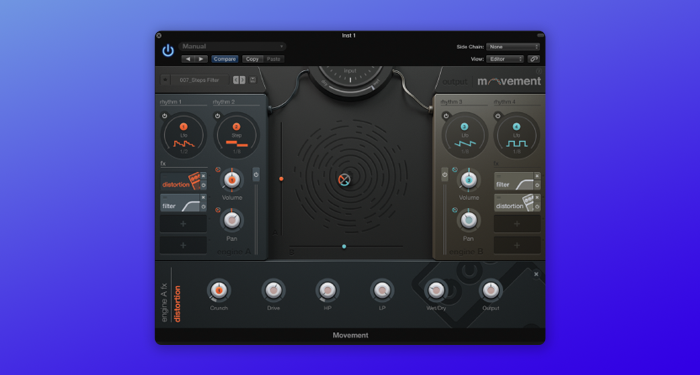 Movement features over 300 presets and allows you input any sound, instrument, or track—making it the swiss-army knife for effects.
Other highlights of the plugin include analogue modelled effects, 76 modulation knobs, and state-of-the-art sidechain modulation which allows you to modulate up to 38 parameters using a single input source.
Movement also allows you to adjust your sound in realtime using Movement's XY macro pad, which lets you to control up to 152 parameters at the same time.
These features and more let you completely transform any instrument or track, making it an invaluable tool for any producer.
MXXX by Melda Productions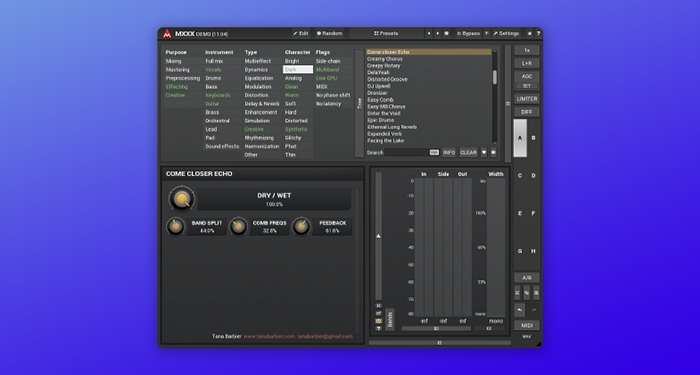 MXXX is pricey but worth it…
It gives you every Melda Productions effect (all 94!) in a simple, user-friendly interface. Echo, reverb, delay, distortion, compression, saturation, flanger—I mean everything.
This VST has more than 70 processors and over 500 active presets, each with their own set of processors and controls allowing you to completely customize and create new sounds.
An especially impressive feature of this VST is the automatic routing matrix: Insert any of the FX processors and the VST will do the routing for you by putting inputs and outputs in the most probable locations. This of course is fully editable, but is definitely a nice feature.
The folks over at Melda Productions really put together the complete package with MXXX that is sure to please everyone.
Ready for Anything
With an overwhelming selection of VSTs available on the market, it can be hard to know where to even start.
By choosing VSTs that can do a lot for you you'll get the most bang for your buck.
Having a small but solid collection of plugins that can adapt to different tracks, instruments and genres will help you have an effective workflow as a producer, and your RAM will probably thank you too.