Rapper and producer TT the Artist talks about her beatmaking debut. During in high school, Tedra Wilson started rapping with another girlfriend.
"I was inspired by how much respect she would get through using her voice and literally battling all the boys with classic rhymes and freestyles. That is when I realized I wanted to rap." The early foundations for TT the Artist were laid.
Throughout her years at the Maryland Institute College of Art in Baltimore, Tedra spent her time hosting live shows and events. After a two year adventure in New York City, she finally settled for Baltimore, the city where she's been developing her unique sound.
TT the Artist is known for her refreshing attitude, fierce rapping style and powerful confidence. Her sound is heavily influenced by Baltimore club, a breakbeat musical genre that gets a club lit at sky high BPMs. Add Miami bass, hip-hop, 90's dance, R&B and EDM into the mix and you've got TT the Artist. Her art school background shines through the artistic direction on all her releases: bold colors and flawless style.
After several successful EPs, including Queen of the Beat (2016) and Art Royalty (2015) and collaborations with Diplo and Mighty Mark, TT the Artist is exploring a new horizon: beat making.
On Bxrthday—her newest release premiered on Noisey—TT the Artist wrote all the songs and also produced them. Dip into the making-of process of the EP and TT's musical universe.
What inspired you to make a record about birthdays this time around?
My Bxrthday EP is an introduction to me as a producer. I wanted to just have fun with the tracks and showcase my style. So I came up with a theme that everyone could relate to—we all have birthdays, DJs love birthday songs and every day is someone's birthday…so to me it was like striking gold!
For Bxrthday, you blend Baltimore and Jersey club. What do you like about those genres?
Baltimore and Jersey club are very similar when it comes to the tempo of the genres. Jersey club evolved from Baltimore club music. Baltimore club music is very percussive and all about the drums and breaks. Jersey club is all about melody and often incorporates a lot of R&B samples piano chords and synths.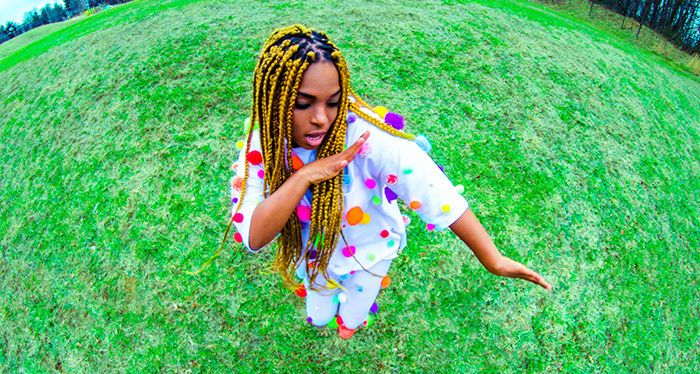 What was your process for making the Bxrthday EP?  
I recorded my vocals and produced all the beats at my home studio setup. I used a combination of Maschine and Logic Pro X. Once I had the songs arranged I set up a session with my good friend Mighty Mark, who is also a pioneer in the Baltimore club music scene. Mark assisted me with polishing the songs and making sure each instrument was good quality. I worked with audio engineers Kidd from Studio 17 and Brandan Lackey from LineUp Room studios, both local studios in Baltimore to have my vocals mixed down. I used Kami Records to handle all the mastering . It was a pretty smooth process all the way around.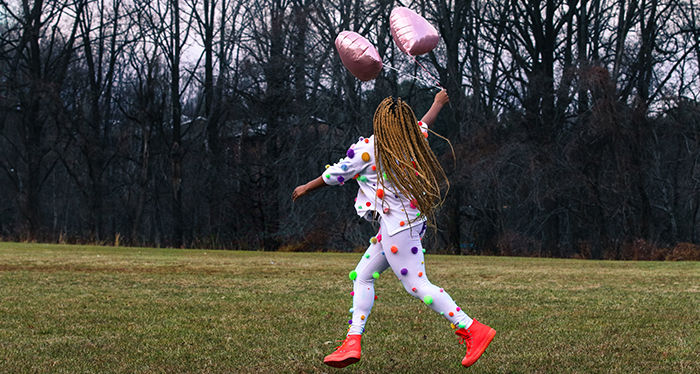 What have your biggest challenges and biggest successes been as a self-made and self-promoted artist?
Pursuing a career in music can be challenging. Some of my biggest challenges have been getting the right exposure and platforms to be heard and seen. With the Internet being a direct link from artists to consumer, it is easier for an artist to become self-made and self-promoted.
However, there is also a lot more for people to consume so you can easily get lost in the mix if you don't find a way to stand out. My biggest successes have been acquired through outreach and collaboration. Every time I did a feature or took the time to send an email with links to my music there was a chance and a seed that I planted. Eventually, those seeds begin to grow and opened doors for me to now get my music on more media platforms—TV, radio, and blogs. Press helps with getting more gigs to perform live.
How do you choose your collaborators and what's it like to work with other people?
I enjoy working with people who have natural talent. They may not be as experienced in terms of the technical aspects of production, but if you have the talent you can bring in the technical aspects later. When I'm working with producers I'm looking for two things: 1) the creative ideas they bring to the song 2) how they produce my vocals. I think collaboration makes you a more versatile artists.
What's your music studio like?
I need a bigger desk! My home studio is growing. I have the beginner setup: 2 monitors, my laptop, a mic and audio interface. The Native Instruments Maschine Mikro and a small MIDI Keyboard are the latest additions. I also record out of a lot of different studios in Baltimore when I want to be fancy. I typically do my pre-production at home now.
What are your three favorite tracks right now?  
Big Sean "Bounce Back", Amine "Caroline," 21 Savage & Metro Boomin "X" (ft Future). As far as my own music goes, I've really been listening to the entire Bxrthday project as my fav right now.
How did you learn about Kami Records and how has it helped you in your music?
I discovered Kami Records through Facebook and YouTube ads. As an independent artist I'm always looking for ways to make my music sound better but cut costs from my budget. I went to the Kami Records website and saw the reviews. I tested out some of my pre-masters and it was easy and fast! It didn't take much to convince me and I signed up for the yearly plan. Using Kami Records has actually encouraged me to produce more music and have faster turnaround time because you can get your masters back same day. I am very happy with the decision I made to sign up.
What do you consider your biggest success so far, and what are your wishes for the future?
I think my biggest success last year was performing at the Coachella music festival and getting my music placed in HBO's new series Insecure.
For the future I'm planning to work on films and get back into painting. I am also planning to present more music videos and just cool content for my fans. I want to take what I am doing worldwide!